Search Results for:
Stoke-on-Trent

-

Page 1 of 6

The online catalogue does not include details of all our collections. Contact us for further information on collections not yet featured online.
Stoke-on-Trent Young Archaeologists' Club
PLEASE NOTE – our membership is fully subscribed, but get in touch if your child would like to be put on our waiting list.
We are looking for Volunteer Assistants to join us in running Stoke-on-Trent YAC. Find out more.
Stoke-on-Trent YAC is open to everyone aged 8–16 years. YAC clubs get involved in all sorts of activities, including visiting and investigating archaeological sites and historic places, trying out traditional crafts, taking part in excavations, and lots more.
Stoke-on-Trent YAC is based at The Potteries Museum & Art Gallery in Hanley, Stoke-on-Trent. The club usually meets once a month. It is an affiliated club of the YAC network, and is run by staff and volunteers at The Potteries Museum & Art Gallery, which is run by Stoke-on-Trent City Council.
Membership currently costs £24.00 per year and renews each January.
If you'd like to get involved with Stoke-on-Trent YAC, or find out more about how the club is run, get in touch with the team using the details below:
Contact: Joe Perry (Curator of Local History)
Tel: 01782 232539
Email: [email protected]
You can find out more about Stoke-on-Trent YAC, and other branches, on the YAC website.
January Sale
Grab yourself a bargain! – enjoy 20% savings on Anita Harris and Carole Glover pottery, and 30% off all of our Seasonal Gift items in our online Foyer Shop from January 4th until January 17th. Please call 01782 232323 or email [email protected] for more information.
PLEASE NOTE – in line with new government guidelines we are currently only able to offer postal orders from the Foyer Shop.
Anita Harris – 20% off all these listed prices
Carole Glover – 20% off all these listed prices
Seasonal Gifts – 30% off all of these listed prices
Seasonal Gifts – 30% off all of these listed prices
Seasonal Gifts – 30% off all of these listed prices
Seasonal Gifts – 30% off all of these listed prices
Seasonal Gifts – 30% off all of these listed prices
Seasonal Gifts – 30% off all of these listed prices
Seasonal Gifts – 30% off all of these listed prices
Seasonal Gifts – 30% off all of these listed prices
Seasonal Gifts – 30% off all of these listed prices
Seasonal Gifts – 30% off all of these listed prices
Seasonal Gifts – 30% off all of these listed prices
Seasonal Gifts – 30% off all of these listed prices
Seasonal Gifts – 30% off all of these listed prices
Seasonal Gifts – 30% off all of these listed prices
22. He'll be coming down the chimney when he comes
The range of ceramic production in Stoke-on-Trent is as broad as anywhere in the world. Over the years it seems the imagination was the only limiting factor to what pottery manufacturers were willing to produce. In particular, teapots have been subjected to all manner of weird and wonderful shapes and decoration. Manufacturers of novelty teapots included Sadler, Price and Kensington and Carlton, the makers of this teapot, moulded in the form of Santa Claus appearing from the top of a chimney.
Santa Claus first slid down the chimney in a 1812 book by Washington Irving. The name Santa Claus is an Americanised version of the abbreviated Dutch name for St. Nicholas, Sinterklaas, the 4th-century Bishop of Myra, an ancient town in what is now Turkey. In the most famous tale involving St. Nicholas, the bishop anonymously delivers bags of gold to a poor family, often dropping the gold down the chimney. In 1809, Washington Irving helped spark an interest in St. Nicholas when he featured the saint in his satirical Knickerbocker's History of New York. In an expanded version of Knickerbocker's published in 1812, Irving added a reference—the first known—to St. Nicholas "rattl[ing] down the chimney" himself, rather than simply dropping the presents down. However, It was the famous poem, published anonymously in 1823, "A Visit from St. Nicholas"—known as "'Twas the Night Before Christmas"—that popularised the idea of Santa Claus tumbling down the chimney.
Despite the shifts in household heating; moving from open fires to stoves and to central heating Santa Clause's ability to ensure that presents are left at the homes of each good little boy and girl has remained. Whether through a window or door, with his magic key, no children need worry about the possibility of a Christmas day without presents from Santa Claus. As with most fashions the trends of yesteryear return and the current fashion for an open fire or stove has meant that many homes have reverted back to using their chimneys. This is good news for Santa who once his works on Christmas Eve is done can look forward to a nice cup of tea (from a Stoke-on-Trent teapot, of course).
16. The Indomitable Snowman
As sure as Santa's visit on Christmas Eve or leftover turkey on Boxing Day, the beloved animation The Snowman will be watched by millions of people all over the UK this festive period.
The book, The Snowman was first published in 1978 by the children's writer and illustrator Raymond Briggs. The animated film was later released in 1982 and caught the hearts of thousands of children (and adults) around the world. Its signature tune "I'm walking in the Air" stormed the music charts in 1985 when sung by Aled Jones. The success of the book, animation and theme tune have ensured that The Snowman has become as synonymous with Christmas as mince pies.
A whole host of official merchandise has been created in relation to The Snowman over the decades including a number of ceramic figures. Royal Doulton held the licence and were the first ceramic company to produce a range of sculptured figures based on the character in 1985. Manufactured by the John Beswick Studio of Royal Doulton (Royal Doulton took over John Beswick Ltd in 1969) the first range ran for just nine years as did not sell as well as expected. However, the company saw fitting to issue a new range of limited edition figures in 1999 which included "Dancing in the Snow" and "The Journey Ends".
Another Stoke-on-Trent company, Coalport, acquired the licence to produce ceramic snowman products in 2001. They produced over thirty different figures for general release as well as a number of limited edition pieces. Today the Snowman figurine is again manufactured under the John Beswick name as in 2004 the Beswick name and product design rights were purchased from Royal Doulton and are now part of the Dartington Crystal group of brands.
The Snowman book was first published over 40 years ago, and it is heart-warming to think of all of those children who experienced the book and animation the first time around now sharing that same experience with children of their own. Here's to many more decades of The Snowman on bookshelves, TVs and mantelpieces everywhere.
DesignLab Nation Schools' programme
Would your school like to be part of the Victoria and Albert Museum's national schools programme, DesignLab Nation?
DesignLab Nation brings together Secondary schools in partnership with the V&A, regional museums and creative industries to inspire students and support teachers through in-depth design projects. DesignLab Nation is a fully funded project and we are looking for Secondary Schools in the Stoke-on-Trent area to be involved in Spring term 2021, Summer term 2021, Autumn term 2021 or Spring 2022.
What does it include?
An in-depth design project for one KS3 or KS4 Design and Technology or Art and Design class (of approx. 16 students) run over one academic term either in Spring 2021, Summer 2021 or Autumn 2021 or Spring 2022. The project would include 4 full day creative sessions led by social artist Rebecca Davies and museum experts at V&A, London and The Potteries Museum & Art Gallery, Stoke-on-Trent. Students are asked to respond to a design challenge and work through all stages of a design journey (including finding inspiration, writing a brief, experimentation, evaluation). The design challenge we are setting students in 2021 in Stoke-on-Trentis based around Gender and Identity. Sessions involve creative thinking, critical thinking and collaborative activities, as well as interactive talks, demonstrations and supportive feedback crits.
Engaging access to the collections at V&A and The Potteries Museum & Art Gallery, either in your school though outreach and creative packs or via trips with social distancing in place.
A flexible delivery plan adhering to the health and safety requirements of your school. Currently (Spring 2021 and Summer 2021 ) sessions can be delivered either at The Potteries Museum & Art Gallery (COVID-19 Secure) or at your school. We would hope to welcome DLN schools to the V&A (COVID-19 Secure) for a day trip as part of projects from Autumn 2021 onwards depending on COVID-19 measures. If this is not possible students will engage with the V&A in an online capacity and via our loans programme. Depending on a school's requirements, availability and the ongoing COVID-19 pandemic, sessions can either be delivered in person with social distancing in place, or via Creative packs including step by step instruction videos, resources, materials and equipment.
All materials, equipment and resources in order complete projects.
Where possible and dependent on COVID-19 guidelines regarding social distancing transport to and from The Potteries Museum & Art Gallery can be provided. Where possible and dependent on COVID-19 guidelines regarding social distancing transport to and from the V&A will be provided.
An end of project online celebration where students can showcase their designs and celebrate their achievements.
An online D&T focused continued professional development (CPD) session for teachers and school staff.
Support from artist and museum staff to help students and teachers to work on the project between workshops.
Leading Artist
This is our third year delivering the DesignLab Nation programme with the V&A London. This year we are excited to be working with social artist Rebecca Davies. Rebecca uses illustration and performance in her work to communicate about social issues. She is experienced in working with communities, and  co-leads on The Portland Inn project which is well renowned in the city for the work it has done in partnership with families living in the area. She lead part of our second year programme on social commentary. Using games, discussion, illustration and print making to develop student's ideas and designs. She also teaches at Staffordshire University. Find out more about Rebecca's work here.
Find out more: Information for schools
Contact us: [email protected]
Previous project examples – Year 2 report
Seasonal Gifts
20% off all these prices from Monday 21st December until Wednesday 23rd December
It's nearly Christmas and we have a perfect range of gifts and cards for that special someone in your life.
For the ladies we have some great unique jewellery.
For the men we have officially branded Hoard, Harris Tweed and St. Justin cufflinks and tie pins – and earrings for the ladies.
For something simpler choose from a range of delicate necklaces and earrings from Shrieking Violet, all of which include real flowers.
We stock a fine selection of Christmas cards.
And for the kids we've got lots of popular character merchandise.
Potteries Calendar £5
It's the time of year for some new winter wear – so why not treat someone special to something from our beautiful range of items and accessories for ladies, gentlemen and kids.
Stokie and proud.
Indulge yourself this Christmas with these beautiful fine bone china Wedgwood Teas Sets all packaged in these stunning gift boxes.
Pam Peters decorative glassware dishes.
Hedgeberry Glassware
Celtic Lands Pill Boxes by Sea Gems
We also have a range of Christmas cards featuring artwork from the local area and sending seasonal greetings from Stoke-on-Trent.
Kids
Crafts
For the garden
Collectors corner
WWI and WWII replica medals
Coins
Themed pin badges
Local Potters
Reflecting the city's industrial heritage our shop features a wide range of studio pottery created by local artists.
Moorland Pottery
Established in 1960, Moorland Pottery produce brilliantly playful ware that reflects Stoke-on-Trent's rich culture.
Anita Harris
Anita Harris art pottery is globally renowned and collected across the world. Anita has designed many best-selling ranges over the years for Harrods, Selfridges, Bloomingdales and John Lewis, to name but a few. Anita has designed a fabulous range of Pottery inspired by our collections. Available to purchase in our shop, this beautiful pottery would make a wonderful gift for any collector.
Carole Glover
Based in Stafford, Carole Glover is one of the best-known UK studio potters specialising in Staffordshire slipware.
After graduating at Derby University, she pursued her love of pots and gained experience by assisting wood-firing potters in Devon, going on to set up her own studio in Stafford.
Heavily influenced by 19th century Devonshire & 16/17th century Staffordshire slipware potters, she aims for simplicity of form to enhance her own style of slipware decoration whilst keeping with the colour glazes of the period. Textile jewelling added with the wood firing makes her range of pots exquisite, beautiful and extremely popular amongst collectors.
Black Star Ceramics
Established in Crewe in 2016, and opening a brand-new studio at Baldwin's Gate in 2018, Black Star Ceramics specialise in hand made ceramics using traditional techniques such as slip casting and throwing, producing single piece one-off items, multi piece collections – and everything in-between.
Founded by a highly experienced former Doulton and Beswick ceramicist, Black Star Ceramics performs the entire end to end process of ceramic making, ensuring that all of the pieces are unique, bespoke and original.
Black Star Ceramics supports local business and sources all its materials and tools from Stoke-on-Trent.
Wedgwood
Charming boxed tea sets, cups and saucers from the iconic pottery manufacturer.
Scruffy Little Herbert
Scruffy Little Herbert products are carefully designed by Staffordshire based Artist, Illustrator and mum of two Esme Talbot (aka Scruffy). Scruffy specialises in making you smile with modern design.
Esme finds her inspiration in local heritage and brings the things we love from the past into the present, whilst delivering messages to continue traditions into the next generation.
Esme has designed an exclusive range of goods for us here at the museum, including the Spitfire mug in a traditional willow style, tea towels, magnets and postcards – all using iconic images that represent Stoke-on-Trent, including Bottle Kilns, Oatcakes and our very own Spitfire.
Exclusive to The Potteries Museum
Plaque – this earthenware plaque painted by Herbert Wilson Foster (1848-1929) is signed and dated '1879 Minton & Co Stoke upon Trent'. It is on display in our Ceramics Gallery and we have a variety of gifts available using this beautiful image.
Stoke-on-Trent Image – bringing our city heritage to life, Scruffy Little Herbert has created this image exclusively for PMAG. You will find cards, postcards, a magnet and tea towel available.
The Potteries Museum & Art Gallery
Minton Hollins mosaic: The Birth of the Virgin
When the new museum in Hanley opened in 1956, one of the most prominent features was the huge mosaic panel by the firm of Minton Hollins depicting the Birth of the Virgin which was installed, in pride of place on the main staircase.
Since then the museum has had not one, but two, extensions but the panel is still in its original position. Underneath the mosaic is a small brass panel with the inscription "Presented to the Stoke-on-Trent Museums in memory of their father Col. Michael Daintry Hollins DL, of Staffordshire, by J Constance Hollins, Executrix, and her sisters Catherine Gwinilda Hollins and Lucy Blanche Hollins August 22nd 1917". Thousands of people pass it every year but perhaps one in a hundred people read the inscription and wonder who Colonel Hollins was, and how the panel came to be in the museum.
The panel was originally installed in the old Hanley museum in Pall Mall, having been presented by the daughters of Michael Daintry Hollins, owner of the largest and best-known tile manufactory in Staffordshire: Minton Hollins. When the new museum was erected the panel came too and was built into the staircase wall as a permanent fixture.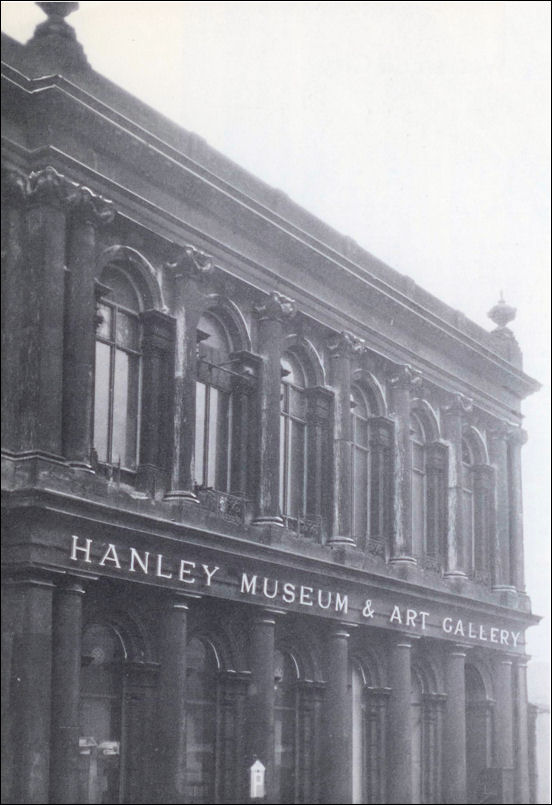 The subject is the Birth of the Virgin Mary. It is a copy of one of six mosaics depicting the life of the Virgin in the apse of the basilica church of Santa Maria Trastevere, Rome. The church is one of the oldest in the city, with evidence of a church on the site from the early 3rd century. The mosaics, which were designed by the Roman artist Pietro Cavallini (c.1250-c.1330), date from the 1290s and were commissioned by the Italian Cardinal, Bertoldo Stefaneschi.
The mosaic shows an elaborate bedchamber with St Anne lying in bed while midwives bathe the infant Mary and two servants bring a meal of two loaves of bread on the table, and wine in a jug. Latin texts on the bedframe identify St Anne and the Virgin Mary as "Mother of God". The longer Latin inscription can be translated as "Creator of mankind, who hast ordained pardon for the fallen, take away the stains of old tarnish from the Silver! Let there be for Thee the chamber where the virgin lies in splendour."
So how did a copy of a 13th century Italian mosaic come to be made in Stoke-on-Trent and installed in the Hanley Museum?
In the 1860s the South Kensington Museum (now the Victoria & Albert Museum) was planning a grand new extension. It was to be built of terracotta in the Renaissance style and embellished with sculpture, ironwork, tiling, frescos – and mosaic panels.
Minton Hollins had recently been responsible for the mosaic work on the Royal Albert Hall at Hyde Park and, according to the company, as a result, the Director of the V&A, Sir Henry Cole, had asked Michael Daintry Hollins "whether the firm could produce any mosaic work of sufficient merit to warrant its preservation in the national collection. As an outcome of this question, Col Hollins had this particular mosaic panel prepared, at very great cost, nothing was spared in its production…… It was submitted to the authorities and as a result, Messrs Minton Hollins & Co were requested to put in the panels, which they could now see in the Victoria & Albert Museum."
The mosaic had then been displayed at Minton Hollins' London showroom at 50 Conduit Street, Mayfair, where it remained, the property of the Hollins family, until 1917. In that year, Alfred J Caddie, the Curator of Stoke-on-Trent Museums, obtained the panel as a gift to the City. According to Caddie he was travelling to London on business. As he said, "It would be the business of begging or borrowing something no doubt… because one of the duties of the Curator of a provincial museum was to obtain gifts for the museum."
Travelling in the same railway carriage was John Henry Marlow, the general manager at the Minton Hollins & Co. tile factory. As they were passed Rugby, Marlow, knowing of Caddie's interest in ceramics, asked him if he had ever seen the mosaic panel displayed in the company's London showroom. When Caddie replied that he had not, Marlow gave him a long and interesting description of the panel. According to Caddie: "When we had reached Bletchley, I ventured to suggest that it would be very nice if the panel could be presented to our Museum. The look on Mr Marlow's face for a moment suggested the coolness of my remark – it seemed to do it, at any rate."
Nonetheless Marlow agreed to help Caddie pursue the idea of the panel being presented to the Stoke Museums. Caddie visited the company showrooms the next day where the manager of the showroom also agreed that the panel would be an appropriate gift to the City – if the Hollins family approved. Later that day, according to Caddie, as he was walking to a lunch appointment with Mr Thomas Twyford, the sanitary ware manufacturer, he "was wondering how he should commence to obtain the panel as a gift for the Museums" when he realised that " Mr Twyford must know the Hollins family and….mentioned the matter to him… Mr Twyford… became very keen about the idea and he promised to do his best." Twyford was as good as his word. Within a few days, Caddie had an invitation to call on Miss Hollins and shortly thereafter it was agreed that the panel should be presented to the Museum.
The panel was carefully removed from the London showroom and installed in Hanley Museum. A grand unveiling ceremony was held on 22nd August 1917 with many local worthies in attendance and was fully reported in the local paper.
As almost everyone attending the unveiling had known Col. Hollins, few details of his life were outlined among the many speeches but, over 120 years since his death, the name of his tile company is rather better known than that of the man himself, although he made an important contribution to the industrial, economic and social life of Stoke-on-Trent and the frontage of his factory building still stands.
Michael Daintry Hollins was born in 1815, the fourth son of Thomas Hollins, a Manchester merchant. Hollins qualified as a doctor and became a member of the Royal College of Surgeons but never practised. In 1839, at the age of 24, he joined the pottery factory of his maternal uncle, Herbert Minton, and was soon in charge of supervising the manufacturing side of the business. By the early 1840s the production of tiles was becoming an increasingly important part of the Minton company's output and Hollins became a partner in the new firm of Minton, Hollins & Co., set up solely to produce tiles under the Minton name. Following Herbert Minton's death in 1858, Hollins and his cousin, Colin Minton Campbell, continued to run the pottery between them until 1868. Following a disagreement between the cousins, Hollins moved tile production to a newly-built factory at Cliffe Vale where production continued until the 1970s.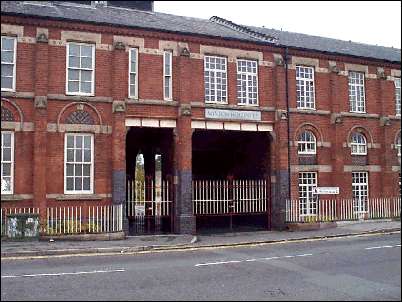 Hollins was active in local life. He became a Justice of the Peace in 1861 and was Chief Bailiff, (equivalent to a modern mayor) for Stoke-upon-Trent in 1866, as well as serving on Staffordshire County Council for three years and becoming Deputy Lieutenant of Staffordshire. He was chairman of the local Chamber of Commerce for over 20 years and took a leading role in founding the important Staffordshire Potteries Board of Arbitration and Conciliation, serving as President in 1868. One of the causes closest to his heart was the local Volunteer force. He was the first Captain of the Stoke Company in 1859, and subsequently Major of what became the Volunteer Battalion of the 1st Staffordshire Regiment, rising to the position of Colonel, a post he held for 25 years.
Hollins married Elizabeth Mackenzie in 1844 and had nine children. All his sons and one daughter predeceased him. His three unmarried daughters jointly gave the panel to Stoke Museums in memory of their father.
"Oh, I do like to be beside the seaside!"
The school holidays have officially started and while we may not be going abroad on holiday, many of us are looking forward to short breaks or days out in this country. The concept of a fortnight away in the sun is quite a modern one. It was not until 1938 that the Holidays with Pay Act introduced the right for certain groups of workers to have one week's paid holiday per year. The outbreak of war the following year, with its interruption to travel within the UK, and many beaches out of bounds for fear of invasion, meant that family holidays were largely on hold until the late 1940s. It was only in the later 1960s, with the advent of affordable package holidays and cheap flights, that the majority of British families could even consider a foreign holiday.
However, from the late 18th century onwards, many towns had held annual holiday periods when an entire local industry closed down for a week or more. Often known as 'Wakes Weeks', in Stoke-on-Trent the holiday was known as "Potters' Holiday" or just "Potters". With the spread of the railway network across Britain local people, who could afford to do so, decamped en masse to popular seaside resorts in Lancashire or North Wales. There, for the duration of the Potters' Holiday period it was possible to buy imported copies of the local Staffordshire paper – and, for those who were self-catering, the all-important Staffordshire oatcakes.
"Oh I do like to walk along the Prom, Prom, Prom" The popularity of these holiday resorts with their safe seaside bathing beaches can be seen in this tile panel of "Summer" made by the firm of Minton Hollins & Co. One of a set of four, depicting the Seasons, it shows a scene at the seaside, probably Llandudno, which was a becoming a popular holiday destination in the 19th century for Staffordshire holiday makers. In the foreground a street musician carries a Welsh triple harp, a bather wrings out a towel and another man stands looking out to sea. In the background bathing machines have been pulled down to the sea to protect the modesty of the (male) bathers as they change and enter the water. Sea bathing in England was segregated by gender until 1901, after which the use of bathing machines rapidly declined, bathing costumes became compulsory, and mixed bathing became popular.
"That's The Way to Do It!" Once at the seaside, holiday makers wanted entertaining and Mr Punch has been part of the British seaside since the 19th century but his roots go back much further. In 1662 the diarist Samuel Pepys recorded seeing a puppet show featuring the character 'Pulcinello' – whose name was subsequently anglicised to 'Punch' and by the late 18th century there were many such shows to be seen in London and other large towns. These early shows featured marionettes – puppets suspended from strings – rather than the more familiar glove puppets of today and a fixed performance area, but by the early 18th century glove puppets and a portable cloth covered booth had become the norm.
At first Punch, like his Italian namesake Pulcinello, wore white, but he soon developed his distinctive striped costume and hat, adapted from a traditional English jester's outfit. His wife was originally called Joan, not Judy, and his main adversary was the Devil, rather than the Crocodile. These early shows were most commonly seen in the streets of towns and villages and many travelled from fair to fair around the country. With the development of seaside resorts in the mid-19th century Mr Punch moved to the beaches, promenades and piers to entertain the crowds of holiday makers and all the elements of a traditional Punch and Judy show were in place – including the Policeman, the baby, the Crocodile and his sausages.
Despite being criticised over the years for their violence and anarchy, Punch and Judy shows remain popular with both children and adults and a few years ago they were listed as one of the twelve most important British icons, alongside Stonehenge, Routemaster buses and Alice in Wonderland. Despite their well-publicised marital difficulties Punch and his wife are still together 350 years after they first came to England.
"By the Sea, by the Sea, by the Beautiful Sea!" What would the seaside be without bathing – whether sea bathing or sun bathing? Despite their popularity, both are comparatively new activities. Sea bathing to benefit health was prescribed by doctors from the late 18th century. It was regarded as a dangerous activity only to be undertaken under careful supervision by professional bathing women who would guide the bather into and out of the water from bathing machines that were drawn into the water and from which the bathers emerged without endangering their modesty. By the mid-19th century affordable train travel meant that far more people could visit the seaside. Sea bathing became more accessible and started to be seen as a pleasurable activity, rather than a medical recommendation. The advent of mixed bathing from the early 20th century and the gradual abandonment of bathing machines meant that the importance of practical – and attractive – bathing costumes became more important. At a period when women's clothing covered them from neck to ankle, bathing costumes, which clearly revealed the figure, were regarded as daring. This detail from an advertisement from the firm of Arkinstall & Co, makers of Arcadian china novelty wares, illustrates their range of bathing beauties figures in the latest costumes suitable for the beach, and dates to around 1924.
A slightly more upmarket version of the same idea is this lovely figure of the "Sunshine Girl", designed by Leslie Harradine for Royal Doulton in 1929 and in production until 1938. In this instance the figure is protecting her pale complexion from the sun by sheltering under a Japanese paper parasol. Within a few years of this figure going into production sun-bathing and tanned skin were to become highly fashionable, something which has only recently started to change.