Search Results for:
Stoke-on-Trent

-

Page 1 of 5

The online catalogue does not include details of all our collections. Contact us for further information on collections not yet featured online.
Stoke-on-Trent Young Archaeologists' Club
PLEASE NOTE – our membership is fully subscribed, but get in touch if your child would like to be put on our waiting list.
We are looking for Volunteer Assistants to join us in running Stoke-on-Trent YAC. Find out more.
Stoke-on-Trent YAC is open to everyone aged 8–16 years. YAC clubs get involved in all sorts of activities, including visiting and investigating archaeological sites and historic places, trying out traditional crafts, taking part in excavations, and lots more.
Stoke-on-Trent YAC is based at The Potteries Museum & Art Gallery in Hanley, Stoke-on-Trent. The club usually meets once a month. It is an affiliated club of the YAC network, and is run by staff and volunteers at The Potteries Museum & Art Gallery, which is run by Stoke-on-Trent City Council.
Membership currently costs £24.00 per year and renews each January.
If you'd like to get involved with Stoke-on-Trent YAC, or find out more about how the club is run, get in touch with the team using the details below:
Contact: Joe Perry (Curator of Local History)
Tel: 01782 232539
Email: [email protected]
You can find out more about Stoke-on-Trent YAC, and other branches, on the YAC website.
Minton Hollins mosaic: The Birth of the Virgin
When the new museum in Hanley opened in 1956, one of the most prominent features was the huge mosaic panel by the firm of Minton Hollins depicting the Birth of the Virgin which was installed, in pride of place on the main staircase.
Since then the museum has had not one, but two, extensions but the panel is still in its original position. Underneath the mosaic is a small brass panel with the inscription "Presented to the Stoke-on-Trent Museums in memory of their father Col. Michael Daintry Hollins DL, of Staffordshire, by J Constance Hollins, Executrix, and her sisters Catherine Gwinilda Hollins and Lucy Blanche Hollins August 22nd 1917". Thousands of people pass it every year but perhaps one in a hundred people read the inscription and wonder who Colonel Hollins was, and how the panel came to be in the museum.
The panel was originally installed in the old Hanley museum in Pall Mall, having been presented by the daughters of Michael Daintry Hollins, owner of the largest and best-known tile manufactory in Staffordshire: Minton Hollins. When the new museum was erected the panel came too and was built into the staircase wall as a permanent fixture.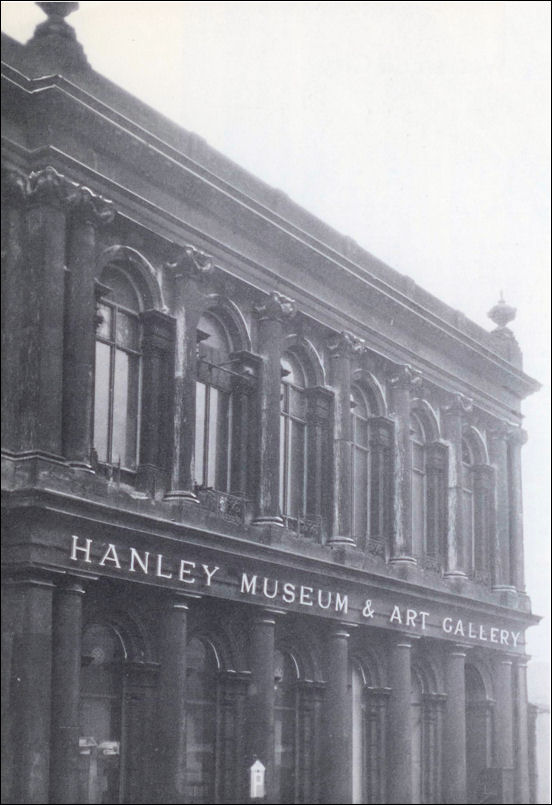 The subject is the Birth of the Virgin Mary. It is a copy of one of six mosaics depicting the life of the Virgin in the apse of the basilica church of Santa Maria Trastevere, Rome. The church is one of the oldest in the city, with evidence of a church on the site from the early 3rd century. The mosaics, which were designed by the Roman artist Pietro Cavallini (c.1250-c.1330), date from the 1290s and were commissioned by the Italian Cardinal, Bertoldo Stefaneschi.
The mosaic shows an elaborate bedchamber with St Anne lying in bed while midwives bathe the infant Mary and two servants bring a meal of two loaves of bread on the table, and wine in a jug. Latin texts on the bedframe identify St Anne and the Virgin Mary as "Mother of God". The longer Latin inscription can be translated as "Creator of mankind, who hast ordained pardon for the fallen, take away the stains of old tarnish from the Silver! Let there be for Thee the chamber where the virgin lies in splendour."
So how did a copy of a 13th century Italian mosaic come to be made in Stoke-on-Trent and installed in the Hanley Museum?
In the 1860s the South Kensington Museum (now the Victoria & Albert Museum) was planning a grand new extension. It was to be built of terracotta in the Renaissance style and embellished with sculpture, ironwork, tiling, frescos – and mosaic panels.
Minton Hollins had recently been responsible for the mosaic work on the Royal Albert Hall at Hyde Park and, according to the company, as a result, the Director of the V&A, Sir Henry Cole, had asked Michael Daintry Hollins "whether the firm could produce any mosaic work of sufficient merit to warrant its preservation in the national collection. As an outcome of this question, Col Hollins had this particular mosaic panel prepared, at very great cost, nothing was spared in its production…… It was submitted to the authorities and as a result, Messrs Minton Hollins & Co were requested to put in the panels, which they could now see in the Victoria & Albert Museum."
The mosaic had then been displayed at Minton Hollins' London showroom at 50 Conduit Street, Mayfair, where it remained, the property of the Hollins family, until 1917. In that year, Alfred J Caddie, the Curator of Stoke-on-Trent Museums, obtained the panel as a gift to the City. According to Caddie he was travelling to London on business. As he said, "It would be the business of begging or borrowing something no doubt… because one of the duties of the Curator of a provincial museum was to obtain gifts for the museum."
Travelling in the same railway carriage was John Henry Marlow, the general manager at the Minton Hollins & Co. tile factory. As they were passed Rugby, Marlow, knowing of Caddie's interest in ceramics, asked him if he had ever seen the mosaic panel displayed in the company's London showroom. When Caddie replied that he had not, Marlow gave him a long and interesting description of the panel. According to Caddie: "When we had reached Bletchley, I ventured to suggest that it would be very nice if the panel could be presented to our Museum. The look on Mr Marlow's face for a moment suggested the coolness of my remark – it seemed to do it, at any rate."
Nonetheless Marlow agreed to help Caddie pursue the idea of the panel being presented to the Stoke Museums. Caddie visited the company showrooms the next day where the manager of the showroom also agreed that the panel would be an appropriate gift to the City – if the Hollins family approved. Later that day, according to Caddie, as he was walking to a lunch appointment with Mr Thomas Twyford, the sanitary ware manufacturer, he "was wondering how he should commence to obtain the panel as a gift for the Museums" when he realised that " Mr Twyford must know the Hollins family and….mentioned the matter to him… Mr Twyford… became very keen about the idea and he promised to do his best." Twyford was as good as his word. Within a few days, Caddie had an invitation to call on Miss Hollins and shortly thereafter it was agreed that the panel should be presented to the Museum.
The panel was carefully removed from the London showroom and installed in Hanley Museum. A grand unveiling ceremony was held on 22nd August 1917 with many local worthies in attendance and was fully reported in the local paper.
As almost everyone attending the unveiling had known Col. Hollins, few details of his life were outlined among the many speeches but, over 120 years since his death, the name of his tile company is rather better known than that of the man himself, although he made an important contribution to the industrial, economic and social life of Stoke-on-Trent and the frontage of his factory building still stands.
Michael Daintry Hollins was born in 1815, the fourth son of Thomas Hollins, a Manchester merchant. Hollins qualified as a doctor and became a member of the Royal College of Surgeons but never practised. In 1839, at the age of 24, he joined the pottery factory of his maternal uncle, Herbert Minton, and was soon in charge of supervising the manufacturing side of the business. By the early 1840s the production of tiles was becoming an increasingly important part of the Minton company's output and Hollins became a partner in the new firm of Minton, Hollins & Co., set up solely to produce tiles under the Minton name. Following Herbert Minton's death in 1858, Hollins and his cousin, Colin Minton Campbell, continued to run the pottery between them until 1868. Following a disagreement between the cousins, Hollins moved tile production to a newly-built factory at Cliffe Vale where production continued until the 1970s.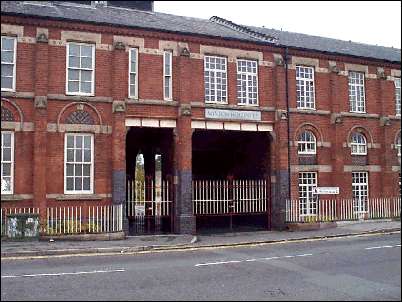 Hollins was active in local life. He became a Justice of the Peace in 1861 and was Chief Bailiff, (equivalent to a modern mayor) for Stoke-upon-Trent in 1866, as well as serving on Staffordshire County Council for three years and becoming Deputy Lieutenant of Staffordshire. He was chairman of the local Chamber of Commerce for over 20 years and took a leading role in founding the important Staffordshire Potteries Board of Arbitration and Conciliation, serving as President in 1868. One of the causes closest to his heart was the local Volunteer force. He was the first Captain of the Stoke Company in 1859, and subsequently Major of what became the Volunteer Battalion of the 1st Staffordshire Regiment, rising to the position of Colonel, a post he held for 25 years.
Hollins married Elizabeth Mackenzie in 1844 and had nine children. All his sons and one daughter predeceased him. His three unmarried daughters jointly gave the panel to Stoke Museums in memory of their father.
"Oh, I do like to be beside the seaside!"
The school holidays have officially started and while we may not be going abroad on holiday, many of us are looking forward to short breaks or days out in this country. The concept of a fortnight away in the sun is quite a modern one. It was not until 1938 that the Holidays with Pay Act introduced the right for certain groups of workers to have one week's paid holiday per year. The outbreak of war the following year, with its interruption to travel within the UK, and many beaches out of bounds for fear of invasion, meant that family holidays were largely on hold until the late 1940s. It was only in the later 1960s, with the advent of affordable package holidays and cheap flights, that the majority of British families could even consider a foreign holiday.
However, from the late 18th century onwards, many towns had held annual holiday periods when an entire local industry closed down for a week or more. Often known as 'Wakes Weeks', in Stoke-on-Trent the holiday was known as "Potters' Holiday" or just "Potters". With the spread of the railway network across Britain local people, who could afford to do so, decamped en masse to popular seaside resorts in Lancashire or North Wales. There, for the duration of the Potters' Holiday period it was possible to buy imported copies of the local Staffordshire paper – and, for those who were self-catering, the all-important Staffordshire oatcakes.
"Oh I do like to walk along the Prom, Prom, Prom" The popularity of these holiday resorts with their safe seaside bathing beaches can be seen in this tile panel of "Summer" made by the firm of Minton Hollins & Co. One of a set of four, depicting the Seasons, it shows a scene at the seaside, probably Llandudno, which was a becoming a popular holiday destination in the 19th century for Staffordshire holiday makers. In the foreground a street musician carries a Welsh triple harp, a bather wrings out a towel and another man stands looking out to sea. In the background bathing machines have been pulled down to the sea to protect the modesty of the (male) bathers as they change and enter the water. Sea bathing in England was segregated by gender until 1901, after which the use of bathing machines rapidly declined, bathing costumes became compulsory, and mixed bathing became popular.
"That's The Way to Do It!" Once at the seaside, holiday makers wanted entertaining and Mr Punch has been part of the British seaside since the 19th century but his roots go back much further. In 1662 the diarist Samuel Pepys recorded seeing a puppet show featuring the character 'Pulcinello' – whose name was subsequently anglicised to 'Punch' and by the late 18th century there were many such shows to be seen in London and other large towns. These early shows featured marionettes – puppets suspended from strings – rather than the more familiar glove puppets of today and a fixed performance area, but by the early 18th century glove puppets and a portable cloth covered booth had become the norm.
At first Punch, like his Italian namesake Pulcinello, wore white, but he soon developed his distinctive striped costume and hat, adapted from a traditional English jester's outfit. His wife was originally called Joan, not Judy, and his main adversary was the Devil, rather than the Crocodile. These early shows were most commonly seen in the streets of towns and villages and many travelled from fair to fair around the country. With the development of seaside resorts in the mid-19th century Mr Punch moved to the beaches, promenades and piers to entertain the crowds of holiday makers and all the elements of a traditional Punch and Judy show were in place – including the Policeman, the baby, the Crocodile and his sausages.
Despite being criticised over the years for their violence and anarchy, Punch and Judy shows remain popular with both children and adults and a few years ago they were listed as one of the twelve most important British icons, alongside Stonehenge, Routemaster buses and Alice in Wonderland. Despite their well-publicised marital difficulties Punch and his wife are still together 350 years after they first came to England.
"By the Sea, by the Sea, by the Beautiful Sea!" What would the seaside be without bathing – whether sea bathing or sun bathing? Despite their popularity, both are comparatively new activities. Sea bathing to benefit health was prescribed by doctors from the late 18th century. It was regarded as a dangerous activity only to be undertaken under careful supervision by professional bathing women who would guide the bather into and out of the water from bathing machines that were drawn into the water and from which the bathers emerged without endangering their modesty. By the mid-19th century affordable train travel meant that far more people could visit the seaside. Sea bathing became more accessible and started to be seen as a pleasurable activity, rather than a medical recommendation. The advent of mixed bathing from the early 20th century and the gradual abandonment of bathing machines meant that the importance of practical – and attractive – bathing costumes became more important. At a period when women's clothing covered them from neck to ankle, bathing costumes, which clearly revealed the figure, were regarded as daring. This detail from an advertisement from the firm of Arkinstall & Co, makers of Arcadian china novelty wares, illustrates their range of bathing beauties figures in the latest costumes suitable for the beach, and dates to around 1924.
A slightly more upmarket version of the same idea is this lovely figure of the "Sunshine Girl", designed by Leslie Harradine for Royal Doulton in 1929 and in production until 1938. In this instance the figure is protecting her pale complexion from the sun by sheltering under a Japanese paper parasol. Within a few years of this figure going into production sun-bathing and tanned skin were to become highly fashionable, something which has only recently started to change.
Frank Scott Collection of Rolled Pipe Clay Figures.
In 2016 The Potteries Museum & Art Gallery's ceramics department acquired their very own wine butler, shepherd, gardener, conjuror, two strongmen and a drunk! These welcomed additions to the department are of course rolled clay figures and not a new intake of staff members. To be exact the museum was fortunate enough to acquire the Frank Scott Collection of 26 rolled pipe clay figures made by William Ruscoe and students of the Burslem School of Art (BSA) during the 1930s.
William Ruscoe was born at Stoke-on-Trent, Staffordshire, England on June 20th 1904, the son of William Ruscoe, potter. After studying art at Stoke-on-Trent under Gordon M. Forsyth he worked as an assistant at the BSA (1938–1942), serving as tutor in the practical side of pottery at the Royal College of Art, London (1939–1940). He then became master-in-charge at Stoke School of Art (1942–1944). He married and moved to Devon in 1944, where he took up a post as assistant master under William Green, A.R.C.A. at the Exeter School of Art to teach drawing and painting and to set up the Ceramics Department. He worked at the college for twenty-five years until his retirement in 1969. He died at Exeter on September 11th, 1990.[1]
Inspired by salt-glazed stoneware pew groups of the eighteenth century, he brought the art of making rolled clay figures to a new level of skill and subtlety. Using both earthenware and porcelain William Ruscoe and other student at the BSA created a wonderful assortment of figures that are naive in design and considerable in their appeal. The rolled clay figures were exhibited at a number of large exhibitions both nationally and internationally highlighting the fact that the figures were appreciated as the work of skilled potters despite their often amusing appearance.
William Ruscoe's talents extended well beyond rolled clay figures including the creation of many pieces of studio pottery. He was especially interest in glazing techniques, a topic on which he published a book titled Glazes for the Potter in 1974 and which led to the creation of some wonderful and colourful finishes to his pottery.
The collection of figures was gifted to the museum by the niece of Mr Frank Scott. Frank Scott was a potter who trained at the Burslem School of Art during the 1930s and worked alongside William Ruscoe. Scott's and Ruscoe's association continued until the outbreak of WWII when Frank joined the army and Ruscoe moved to Devon. Frank Scott was himself an accomplished potter and was offered the opportunity to work as a designer at Royal Worcester, an offer he declined as he wished to remain in Newcastle-under-Lyme. After WWII Mr Scott chose to leave the pottery industry and instead pursued a career in sales. The collection of rolled clay figures were no doubt a wonderful reminder of Mr Scott's time as at the Burslem School of Art.
---
[1] http://georgewadamson.com/williamruscoe.html
An Ideal Gift for Father's Day?
Father's Day, marked on the third Sunday in June, was 'invented' in 1910 in the USA and was only slowly adopted in the UK. Since World War II, however, it has been much more widely celebrated and this year, once again, fathers across the country will be receiving cards and gifts.
What to get men as an appropriate present (apart from socks) can be a problem, but the pottery industry has regularly risen to the challenge. Today a humorous mug may be a popular gift, but in the 19th century, when beards and moustaches were almost universally worn, the potters realised that the challenge of keeping facial hair looking good was a marketing opportunity for them.
In the early 1870s one Stoke-on-Trent firm, Harvey Adams & Co., of Longton, invented an entirely new item to sell to the public. According to Llewellyn Jewitt's Ceramic Art of Great Britain, published in 1877, the firm had "the credit of being the first to make and introduce 'moustache cups' – an invention that has become so popular as to be adopted by many other firms."
During the first half of the 19th century many men had been clean-shaven, but by the 1870s beards – and especially moustaches – had become popular. The latter were often waxed in order to shape them and the steam from tea drinking could soften this wax, causing the moustache to lose its shape and droop. The moustache cup avoided this social embarrassment and, as Jewitt noted, within a few years many other pottery firms were making and selling moustache cups.
These useful and decorative items were ideal gifts for fathers, brothers and husbands. Some, like this one, are decorated with hand painting and gilding and many had additional inscriptions added to personalise them. These inscriptions are usually the recipient's name, often with the date of the gift's presentation or the recipient's birth date, but others have short phrases, such as 'Remember the Giver'. They are only rarely marked with the maker's name.
Moustache cups remained popular until the early 20th century when fashions in men's facial hair changed. After World War I many men chose to be clean shaven or sported a small, neat moustache inspired by movie stars such as Clark Gable or Ronald Coleman. The moustache cup was no longer necessary and ceased to be produced.
Whether or not men chose to sport a moustache, unless they decided to grow a full beard, they needed to shave on a regular basis. In the 19th century some working men would only shave once a week, but white-collar workers would be expected to shave daily. This would have involved a ritual of hot water, shaving soap and, until the introduction of the safety razor in 1903, a cut-throat razor. Potters saw another marketing opportunity and introduced the shaving mug.
This curiously-shaped handled mug allowed the user to froth up the soap with a shaving brush in the top. Hot water would be poured into the mug and the hard shaving soap would rest on the pierced surface. The shaving brush, dipped into hot water, would froth up the soap and the holes in the top allowed the soapy water to drain back into the body of the mug, while the spout allowed the shaver to rest the brush there while shaving, and then to empty the soapy water out.
Like the moustache cup, the shaving mug was a popular gift. Many Staffordshire pottery firms produced them but Continental firms also made them, often at a cheaper price, and large numbers of late Victorian, brightly decorated German porcelain examples, like this one, survive. The introduction of the first shaving cream in the post-World War I period saw the gradual decline in the use of hard shaving soap. By the late 1950s shaving cream was dominant, with new and improved products being constantly developed, and there was no longer a need for shaving mugs.
Collecting during Coronavirus
Like many museums and archives up and down the country we are considering how we can record the impact of Covid-19 in our local area, so Stoke-on-Trent's Museum Service and Stoke-on-Trent City Archives have joined forces to ensure there is a permanent record in the museum and archive collections. The blog below sets out our reasons for collecting this material and the issues we have considered. You can find contact details and a list of what we're interested at the end of the page.
Why Collect?
This is a global pandemic. We already know that Covid-19 related objects and stories are likely to end up in museums and archives all over the globe, and certainly in other UK museums and archives. So is there any need for us to save things in our collection too?
Most museums and archives are guided by their Collecting Policy which lays out what they are interested in collecting. The Museum's local history section of our policy includes the follow areas of importance:
Reflecting the domestic and working lives of people within The Potteries
Recording the history and development of Stoke-on-Trent
Reflecting modern communities in the city
Likewise our Archive Service Collections Development Policy makes clear that (in summary),
Stoke-on-Trent City Archives seeks to ensure that the collecting of archives reflects the broadest range of the life and work of the people and communities of Stoke-on-Trent, past and present, and to ensure that collections at risk are preserved. We collect archive and local studies material relating to the current administrative area of the City of Stoke-on-Trent. These will include: the official archives of Stoke-on-Trent City Council and its predecessor authorities; archives including those of businesses, industrial and commercial organisations, nonconformist churches, organisations, including pressure groups, and institutions, families and estates, societies, trades unions and political parties; books, pamphlets, newspapers and items in any other medium which will maintain as far as possible the comprehensive nature of Stoke-on-Trent's Pottery and Local Studies Collection
The pandemic has clearly affected all of the above. Therefore there is a strong argument for recording Covid-19 at a local level in the museum and archives collection.
Ethical Collecting
All museums and archives have a responsibility to collect objects, archives and local studies material in an ethical manner. We have to be careful that the recording and collecting of the current pandemic is done carefully and respectfully, especially at a time marked by much tragedy and loss. We need to put the needs of the community first at all times. Our professional Codes of Ethics call for museums and archives to be open about what they are collecting and why – something this blog is designed to explore.
Challenges
As well as ethics to consider there are other key challenges we need to meet if we collect things related to the pandemic. Firstly, the potentially huge amount of material and experiences that could be included. It would be impractical to try to document everything and where do you draw the line on what constitutes a pandemic artefact, archive or item of local studies material? How do you pre-empt what could be historically important and culturally relevant in the future?
As with our day-to-day collecting we will try to gather a balanced and representative group of objects, archives, local studies material or whilst avoiding too much repetition of material.
Another big challenge is the fact that lots of material, especially photographs, is 'born digital'. That is to say it was created digitally and probably exists in digital form only. Museums and archives are in the process of adapting to born digital formats. They are still genuine and important reflections of our time and we can't ignore taking them in just because they don't have physical form.
Finally, there's the challenge of the pandemic itself. At all times we need to operate within the best possible guidelines and advice and ensure that we don't put anyone from the community or our staff at risk during this process. Therefore, it is likely that whilst objects, archives or local studies material might be identified at this stage, physical donations would take place at a later date when safe to do so.
What we are interested in
At the current time we are interested in material from The Potteries including:
Letters, posters, leaflets etc. from a range of local organisations that outline responses or news regarding the pandemic. The Archives already collects local newspapers, so there is no requirement to collect newspaper cuttings.
Items made or used for display in windows and homes to show solidarity and support during the crisis
Photographs and stories documenting lifestyle changes – for example, self-isolation, lock down, or changed working environment
Longer-term we may also consider items of manufactured or homemade PPE where it is safe and suitable to do so.
If would like to discuss donating an object or record to the City's heritage collections please get in touch via [email protected], if you are able to attach an image of your item to an email, that would assist our assessment. There may be a delay before we are able physically take any objects, archives or local studies material we accept due to current social distancing measures.
If you have items that don't relate to Stoke-on-Trent, but elsewhere in Staffordshire, you can contact Staffordshire Archives and Heritage at [email protected].
Personal Stories of the Second World War – Part 1
In the run up to the opening of our new Spitfire Gallery in 2021 we're starting to collect the personal stories and memories of life and service during the Second World War..
If you have a story to share, contact us at [email protected]
Les Roberts, one of our Visitor Services Team, tells his family story:
My dad, Leslie Roberts, and his brother, Kenneth, both fought in the Second World War and were some of the few British born black soldiers in domestic regiments. My Grandfather, John Roberts was one of the first black men to settle in Stoke-on-Trent after coming over from Sierre Leone and fighting in the First World War. Later, he was an Air Raid Patrol Warden during the Second World War.
My dad and uncle were both keen boxers. My Uncle Ken's professional boxing career was stopped by the war. Before signing up he was managed by Jack Fitzgerald who also managed Tut Whalley and Tiny Bostock. He continued boxing while he was a Driver with the Royal Army Service Corps as well as being a PE Instructor. In 1942 he won a medal for middleweight Inter-Battalion boxing.
My dad was only 13 when the war broke out. He was called up aged 18 and served with the North Stafford Regiment (Prince of Wales). He was part of the D-Day landings in 1944, landing on Gold beach and then fought his way through France and Germany with the Allied forces. He also helped to liberate Nazi concentration camps.
After being a Driver, my Uncle Ken volunteered as paratrooper with the 21st Independent Parachute Company. He tragically died at Arnhem during the failed Operation Market Garden in 1944. Years later my Grandmother received a letter from another soldier at Arnhem, Peter George Delduca, explaining that Ken lost his life saving a friend who was still on the bridge. He died of his wounds in the Hospital at Jonkerbos on 29th September 1944, aged 23. He is buried at Jonkerbos War Cemetery, near Nijmegen in The Netherlands.
Tourists to the Potteries 1698-1933
We think of tourism as something that developed in the 20th century with the widespread adoption of rail, motor and air travel but for from the 17th century onward, those that had the money and leisure to do so, travelled around Britain, often keeping journals of where they visited and what they saw.
Unlike other parts of the country, such as the Lake District or Wales, North Staffordshire was not celebrated for its scenery, but some of the major roads running north-south and east-west passed very close to modern-day Stoke-on-Trent, bringing a variety to travellers to the area.
The majority of these travellers commented on the most distinctive feature of the area: the pottery industry, while others remarked on the state of the roads, the smoke arising from pottery making, or gave their opinions on the population.
One of the earliest visitors was Lady Celia Fiennes (1662-1702) who travelled extensively through England between 1698 and 1702. In the summer of 1698 she came to north Staffordshire passing by Trentham Hall, and attempted, unsuccessfully, to visit the pottery works of the Elers Brothers at Bradwell, near Newcastle-under-Lyme, just off what is now the A34, before complaining about the state of the road to Betley (now the A531).
"..and then to Trentum, [sic]and passed by a great house of Mr Leveson Gore, and went on the side of a high hill below which the River Trent ran and turn'd its silver stream forward and backward into S's which Looked very pleasant Circling about ye fine meadows in their flourishing tyme bedecked with hay almost Ripe and flowers. 6 mile more to NewCastle under Line [sic].
I went to this NewCastle in Staffordshire to see the makeing of ye fine tea potts. Cups and saucers of ye fine red Earth in imitation and as Curious as yt wch Comes from China, but was defeated in my design, they. Comeing to an End of their Clay they made use of for yt sort of ware, and therefore was remov'd to some other place where they were not settled at their work so Could not see it; therefore I went on to Beteby [Betley] 6 miles farther and went by a Ruinated Castle ye walls still remaining called Healy Castle-this was [a] deep Clay way.
Over fifty years later, in 1750, Dr Richard Pococke (1704-1765) was travelling in north Staffordshire. Unlike Celia Fiennes he was able to visit several potteries after leaving Newcastle-under-Lyme:
"On the 6th [July] I went to see the Pottery villages and first rid [sic] two miles to the east to Stoke where they mostly make the white stone. I then went a mile north to Shefly [Shelton] where they are famous for the red china; then to Andley Green [Hanley] a mile further north, where they make all sorts, and then a mile west to Bozlam [Burslem] where they make the best white and many other sorts, and lastly a mile further west to Tonstall [Tunstall], where they make all sorts too, and are famous for the best bricks and tiles; all this is an uneven, most beautiful, well-improved country, and this manufacture brings in great wealth to it; and there is so much civility and obliging behaviour, as they look on all that come among them as customers, that it makes it one of the most agreeable scene I ever saw, and made me think that probably it resembles that part of China where they make their famous ware."
It's often said that Stoke-on-Trent people are friendly and approachable and it clearly always been true, with almost 270 years ago the local population being described as civil and obliging. I'm not sure about the area looking like China though.
A few years later the Swedish industrial spy RR Angerstein visited England and reported on the state of various industries in England. On visiting the Potteries, he described the making of salt-glazed stoneware and then continued
"When, as it sometimes happens, many kilns are glazing with salt at the same time, there is such a thick smoke of salt in these manufacturing towns, that people in the streets cannot see 6 feet ahead, which, however, does not cause any difficulties. On the contrary the smoke is considered so healthy that people who are ill come here from far away to breathe it."
Oh, how tourism has changed! Some things don't change however and Angerstein bought a quantity of pottery from at least two of the factories that he visited, making him one of the earliest known visitors to a factory shop.
The preacher John Wesley (1703-1791), visited the Potteries many times between 1760-1790 on his preaching tours and mentioned Burslem several times in his diaries.
'1760, March 8th – Went from Wolverhampton to BURSLEM, (near Newcastle under Lyme), a scattered town on the top of a hill, inhabited almost entirely by Potters; a multitude of whom assembled at five in the evening.
'1781, March 8th – I returned to Burslem. How is the whole face of this country changes in about twenty years! Since which, inhabitants have continually flowed in from every side. Hence the wilderness is literally become a fruitful field. Houses, villages, towns, have sprung up: and the country is not more improved than the people.
Wesley's legacy in the area is clear with many Methodist chapels while the most famous portrait bust is that modelled by Burslem potter Enoch Wood, which was widely agreed at the time to be the most accurate portrait of the preacher
In 1795 Dr John Aiken (1747-1822), physician and author, published his A description of the country from thirty to forty miles around Manchester.
By this time north Staffordshire had changed considerably since Pococke's visit in 1750 with the building of the Trent and Mersey Canal, the turnpiking of roads and, as Aiken writes, the building of new roads.
"Stoke-upon-Trent is the parish town…. It has like most other parts of the pottery improved much since the Staffordshire [Trent & Mersey] canal was cut. It contains some handsome buildings, and from its contiguity to a wharf upon the canal, it is conveniently situated for trade…. The river Trent passes here, and at times with rapidity, nevertheless the brick arches which carry the navigation above the river do not seem to have sustained much injury…. A new road has lately been cut from this place to join the London road between Newcastle and Trentham. …From this place to Newcastle… the prospects are extremely beautiful and near at the midway, a view so populous, and at the same time so picturesque is seldom met with."
Despite, or perhaps because, of improvements in the transport system, few 19th century travellers published their impressions of Stoke-on-Trent. It was left to the author JB Priestley to give a long account of his impressions of the Potteries, when he visited in 1933, and which was subsequently published in his English Journey.
"After federation into one city had been first suggested, the inhabitants of these towns [Tunstall, Burslem, Hanley, Stoke-upon-Trent, Fenton and Longton] argued and quarrelled most bitterly for years. Finally, the obvious advantages of federation carried the day and there appeared on paper, the mythical city of Stoke-on-Trent. But when you go there, you still see the six towns, looking like six separate towns. Unless you are wiser than I was, you will never be quite sure which of the six you are in at any given time."
Visitors to Stoke-on-Trent today often find it difficult to distinguish where one town ends and the next starts. One thing has changed dramatically since Priestley's day however – the industrial pollution:
"There was more smoke than I had ever seen before, so that if you looked down upon any one of these towns the drift over it was so thick that you searched for the outbreak of fire, there were no tall chimneys, no factory buildings frowning above the streets; but only a fantastic collection of narrow-necked jars or bottles, peeping above the housetops on every side, looking as if giant biblical characters, after a search for oil or wine had popped them there among the dwarf streets. These, of course, are the pottery kilns and ovens, which are usually tall enough to be easily seen above the rows of cottage houses. I never got used to their odd appearance, never quite recovered from my first wild impression of them as some monstrous Oriental intrusion upon an English industrial area. But without these great bottles of heat, there would be no Potteries."
Stoke-on-Trent has changed hugely since these accounts were written and some of the most significant changes have taken place in the last century. JB Priestly, writing in the 1930s would have seen sights that would not have been so very different from those that John Wesley saw in the 1780s – but neither of them would recognise Stoke-on-Trent today with its modern pottery factories, extensive green spaces reclaimed from old industrial sites and its much, much cleaner air.
Wartime Pottery
At the outbreak of war in September 1939 pottery production was being scaled back. Many pottery workers were being called up into the forces, or had volunteered, while others left to do war work at the local munition factories and engineering works. While export orders declined rapidly, the British government was placing large orders to supply its civilian and military canteens. These were usually stamped with the date of production and 'GR VI' to show that they were government property.
In 1942 official Utility restrictions were placed on what the pottery industry could make for the home market, including a complete ban on decorated ware, but until then factories were able to accept orders, and a small number produced some patriotic designs, usually only made in small numbers.
Among the pieces at PMAG we have a nightlight from the Stoke-upon-Trent firm of Shorter & Son. Made in cream earthenware in the form of a corrugated iron Anderson Shelter it has the letters A.R.P. (Air Raid Precautions) in the roof. In a period when many homes still did not have gas or electrical light, candle night lights were common, particularly in bedrooms. A tealight would have been placed inside the Anderson shelter and the light would have been filtered through the letters. At such a time of uncertainty there is an irony that a nightlight, intended to reassure, should have been produced in a shape associated with air raids.
The Preston firm of Dyson & Horsfall were a mail order firm that ran a very successful national Christmas Club scheme. In a period before the internet, local organisers would deliver the mail-order catalogues, take and forward the customers' orders, and then collect the purchase money, in weekly instalments. The company gave presents to its successful local agents, usually a chrome-plated teapot but in 1940 Dyson & Horsfall commissioned the Tunstall firm of AG Richardson to produce this teapot for its organisers.
Printed and painted with the flags of the Allies it has, to one side ,"Liberty and Freedom", and to the other "War against Hitlerism. This souvenir Teapot was made for Dyson & Horsfall of Preston to replace ALUMINIUM STOCKS taken over for ALLIED ARMAMENTS 1939. That Right Shall Prevail"
Despite the reference to 1939 in the inscription this piece was almost certainly made for distribution at Christmas 1940. The inscription refers to "France Western Colonies" and "France Eastern Colonies" but not to mainland France, which had fallen to the Germans in June 1940.
In August 1939, in advance of the declaration of war, the London Clearing Banks moved their cheque-clearing operations to Trentham Hall, with most of its staff based in the Ballroom.
Hundreds of bank staff were billeted with local families in and around Trentham, and many local people were recruited to work alongside them. The London staff, far from their homes and families, referred to themselves as "The Outcasts" and even started a staff magazine "The Outcasts Observer".
In August 1940, to mark the first anniversary of the evacuation from London, these mugs were commissioned from the firm of T Lawrence, Longton, and were presented to staff by the Controller of the Central Clearing House, Percy S. Quick.

In 1941 the staff were given a commemorative Outcasts ashtray made by Crown Devon, Stoke, – but by 1942 the Utility restrictions on the production of decorative pottery meant that another commemorative piece could not be commissioned. Although we have a couple of Outcasts mugs we don't have an ashtray. So, if you have one in good condition that you would like to donate, please contact us.
The Utility restrictions on what pottery could be made for the home market were gradually lifted after 1945, but the emphasis was on winning back export orders, and it was not until 1952 that production for the domestic market was back to normal. Consequently we do not have any ceramics made in 1945 to commemorate the end of the war – although many have been produced over subsequent decades to mark the significant anniversaries
10 Questions – The Stone Age
An introduction to the Stone Age in 10 questions. Watch or read this quick guide below.
Hello, this is Joe from The Potteries Museum & Art Gallery and for any of you who might be home schooling at the moment, or home learning, or just might be a little bit curious, here are 10 questions, answered, about the Stone Age.
What was the Stone Age?
The Stone Age is the period of time in human history when humans, and our ancestors, couldn't make metal. So they made lots of their tools from, you guessed it, stone.
How long did the Stone Age last?
So the Stone Age goes from the very very earliest stone tools ever found right the way through to when people started to use metal. So this most of human history, and it happens at different times in different places. In Britain, the earliest stone tools we've ever found date to about 900,000 years ago, and they were found in Norfolk. And the Stone Age ends, around about 4,500 years ago, when the Bronze Age began.
What are the three periods of the Stone Age?
So the Stone Age is divided into three periods, and each of these can seem to have quite complicated sounding names. But if we think about what the words mean they're actually a bit a more easy to remember and understand. So all of these words end with the term 'lithic' which is Greek for stone.
And the first period is the Palaeolithic, and 'palaeo' means old, that's why you get people like 'palaeontologists' who study very very old things. So the Palaeolithic literally means the 'Old Stone Age' – the first part of the Stone Age.
After that you get the Mesolithic, and 'Meso' simply means 'middle', so the 'Middle Stone Age'.
And finally you have the Neolithic, and 'Neo' means new, so the 'New Stone Age', the last little bit of the Stone Age.
Why is it called the Stone Age?
The period is called the Stone Age because most of the evidence we find is in the form of stone tools. However, we have to remember that that's only because stone tools survive the best in the ground so archaeologists are more likely to find them. People would have also been making tools from bone, antler, animal furs and skins, wood, and other natural resources. But of course, a lot of these other materials don't survive as well in the ground, particularly when we're talking about periods of time spanning thousands, if not tens and hundreds of thousands of years.
When was Stoke-on-Trent in the Stone Age?
Like many cities the landscape in Stoke-on-Trent has been heavily disturbed and built on. So apart from some chance finds, we don't have a lot of evidence directly inside the city to tell us a lot about what was happening here during the Stone Age.
However, we can look at what's been found at other places in the country, and nearby to Stoke-on-Trent, to get a good idea about, erm, who was here and when.
So some of the earliest local finds are hand axes which have been found elsewhere in Staffordshire and also some of the neighbouring counties like Derbyshire. And these hand axes can date to up to 250-300,000 years ago. So we know at some point there may have been human ancestors wandering the ancient landscape where Stoke-on-Trent now is.
However, this occupation wasn't continuous. Ice ages would have pushed our human ancestors out at various points, and it's only from around 12,000 years ago that we would have seen continuous populations of humans living in this area. And we know they were here because we have caves in places like the Staffordshire Moorlands and the Peak District nearby, where we've found their flint tools and evidence of them hunting animals like reindeer.
What were early humans like?
So our species, Homo sapiens, is quite new on the block, and there have been many, many ancient species of humans who have lived in different parts of the world in different times, including Britain.
And in fact, during the Palaeolithic, remember that's the 'Old Stone Age', during the Palaeolithic, it would have been these ancient human ancestors, for the most part, who were making their home here in Britain. However, the earliest evidence for modern humans is about 40,000 years ago, and that was found down in the south of England, and it's likely that these very, very early modern humans in Britain weren't here for very long, or for long periods of time, because the cold weather and the ice age would have made a lot of Britain fairly uninhabitable.
However, from around 12,000 years ago the climate started to warm up and people began to repopulate and live in Britain, erm, continuously.
How did they get their good and what did they eat?
For most of the Stone Age, people were hunting and gathering, so they were living in small groups and working together to hunt animals, perhaps scavenge some meat as well, and also to gather natural resources like fruits, vegetables, roots, herbs etc. from the natural environment around them.
Some of the animals they were hunting may sound quite exotic to us now. Things like wild horses, bison, mammoth, erm, there have been rhinoceros in Britain at various points in time as well. So some quite, some of these animals of course would have been quite dangerous to hunt as well – you'd have to work together very closely and carefully to hunt a mammoth.
However, at the very, very end of the Stone Age, around 6,000 years ago, there was a big change. So people stopped being hunter-gatherers and they started to farm, and they were growing crops like wheat and barley and they started to keep domesticated animals like cattle, sheep and pigs, and creatures like that, which was a huge change in lifestyle.
What was life like during the Stone Age?
Again, it really depends what part of the Stone Age you were in. In the Palaeolithic, the Old Stone Age, people were living and hunting in groups and in contrsct to the end of Stone Age people were starting to build houses, stay in one place for longer, and erm like I said before, farming, growing crops and tending animals.
What came after the Stone Age?
The Stone Age is followed by the Bronze Age. People began to make some of their tools from metal – bronze, rather than stone. And then they also worked other metals too like gold, we have some Bronze Age gold objects in our collections as well.
However, people didn't just stop making stone tools overnight and it took a long time for metal tools to completely take over the tool sets of our ancestors. So, things like arrowheads, er, scrapers, continued to be made from flint for quite a long time.
What's your favourite Stone Age item?
Some of my favourite objects are Neolithic polished axes – they seem to be quite special objects that people took great care of and also traded them all the way around the country and in Europe, and the axes are often found hundreds of miles away from the sources of stone that were used to create them. Now as well as being valued and special they were probably also used to cut down trees, as you do with an axe, and they can get through a small to medium tree in about 30-40 minutes.
And these aren't hand axes, these aren't like those ancient Palaeolithic tools you may have heard about, these would have been set into a wooden handle and wielded much like an axe today.
If you're studying the Stone Age at home I hope that's been a useful introduced. I've been quite general about lots of dates and terms. There's so much more to discover about the Stone Age. If you have any extra questions you can pop them in the comments below, or get in touch with the museum through email or social media and I'd be delighted to answer your questions.